Best Cages For Hedgehog
This page contains affiliate links. We may earn money or products from the companies mentioned in this post through our independently chosen links, which earn us a commission. Learn More
When you bring your new hedgehog home, you obviously can't let it roam around the home. Hedgehogs, just like hamsters or rats, are small critters that need to stay and live in a cage. While the requirements are not that far off and different from hamsters or rats, it is important to learn about the different things you can do to buy the right cage.
At a Glance: Best Cages For Hedgehog To Buy
We highly recommend looking at the comparison table we have below where we highlighted the features of each product. You'll also find more detailed information about each product later in the article.
IMAGE
PRODUCT

Very spacious for your pet to move around
Easy to assemble
The cage is easy to access

VIEW LATEST PRICE →

Made of durable material
Very easy to clean
Ample room for the pet

VIEW LATEST PRICE →

Easy to clean
Sturdy and huge
The product is easy to move around with the wheels

VIEW LATEST PRICE →

It is not expensive
Good quality
Easy to access and clean

VIEW LATEST PRICE →

Easy to assemble
Easy to clean
It is not expensive

VIEW LATEST PRICE →
Best Rated Cages For Hedgehog Reviewed
Hedgehogs are small, prickly, active animals that love climbing and moving around. A hedgehog in its natural environment can cover many miles per night, so the bigger the cage the better. Moreover, this will keep your pet well exercised and happy. There are many cages in the market but the best would be one that is big enough, well ventilated, safe for your pet and easy to clean. Furthermore, the list below will help you in making the right purchase.
Here are our top picks for the best cages for hedgehog you should consider:
1. Guinea Habitat" Guinea Pig Cage & Accessories by MidWest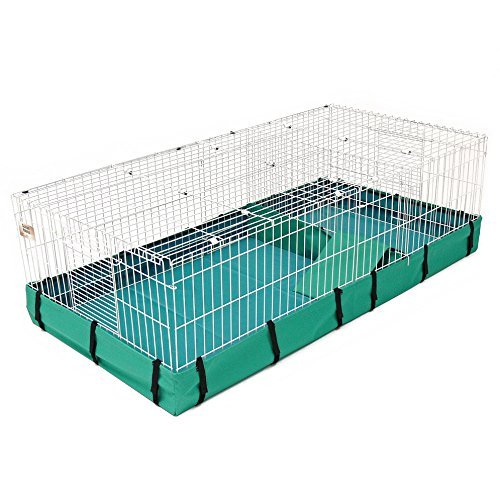 Pros:
Very spacious for your pet to move around
Easy to assemble
The cage is easy to access
It is easy to clean
Cons:
Some say that it was delivered with some missing parts
It is not very sturdy
This cage has an 8 square of living area and measures (L x W x H): 47 x 24 x 14 inches. It has a durable, leak-proof, washable and easily removable PVC lined canvas bottom. This allows for easy care and maintenance while providing traction and protection for the hedgehog's sensitive feet. Moreover, it has a fully removable wire mesh top to protect the pet from other animals or any harm. It also has a 1-year manufacturer warranty.
2. Living World Deluxe Habitat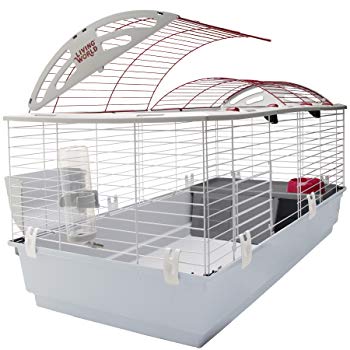 Pros:
Made of durable material
Very easy to clean
Ample room for the pet
It is very sturdy
Cons:
Difficult to assemble
It is very expensive
This hybrid cage has an upper wire frame and a plastic bottom base. It provides a safe, well ventilated and comfortable place for small pets. Furthermore, it has a balcony with an access ramp and a tip-proof food dish that secures to the balcony floor. It also provides everything you need for safely housing a small animal. The top part opens easily in two separate parts to easily access the cage.
3. Midwest Critter Nation Double Unit with Stand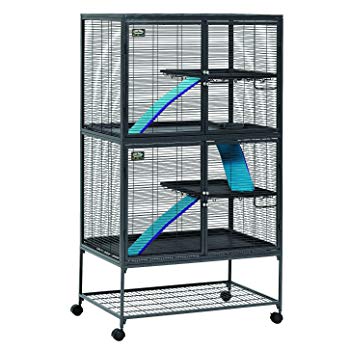 Pros:
Easy to clean
Sturdy and huge
The product is easy to move around with the wheels
It is of high quality
Cons:
Very heavy to carry
It is very expensive
Some pieces don't fit
This cage has full-width double doors which help to easily clean and feed your pet. It has a wide expansive shelf and a full-width plastic pan floor for maximum play. The happy feet ramp cover protects pet feet and provides traction. Moreover, you can easily adjust or remove the shelves and the plastic tray for easy cleaning.
4. AmazonBasics Pet Habitat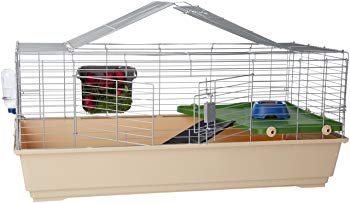 Pros:
It is not expensive
Good quality
Easy to access and clean
Cons:
Plastic is brittle and it may crack if not handled softly
Balcony is not stable enough
This cage is an Amazon brand which measures 47.2 by 23.6 by 20.5 inches (LxWxH), weighs 18.4 pounds. It comes with an Amazon basics limited 1-year warranty. Moreover, it has an iron wire upper frame, a PP plastic base, large top and base openings for easy access. It also comes with a non-drip water bottle, a hay guard, tip-proof food dish and a balcony with an access ramp. The product also has a hideaway space underneath the balcony for privacy. Furthermore, a small-animal home that comes in three sizes which are standard, large, and jumbo.
5. Ferplast Pig Cage, Grey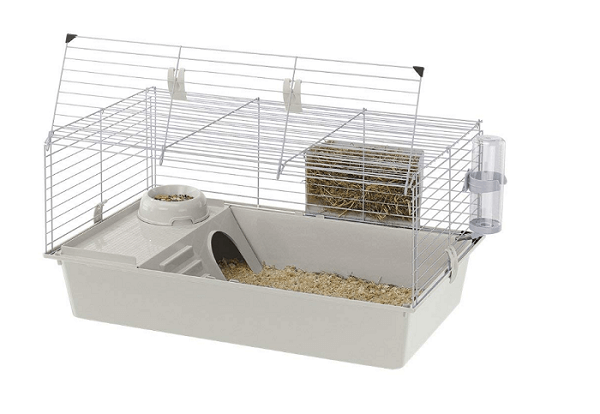 Pros:
Easy to assemble
Easy to clean
It is not expensive
Cons:
Some say the water bottle is defective
The side clips are not secure
This cage is a robust wire net structure with a plastic bottom. You can open the wide front door for easy access inside. It also comes with a hay feeder, drinking bottle, bowl and a pet home. Moreover, the removable base makes it easy to clean.
6. Habitrail Cristal Hamster Habitat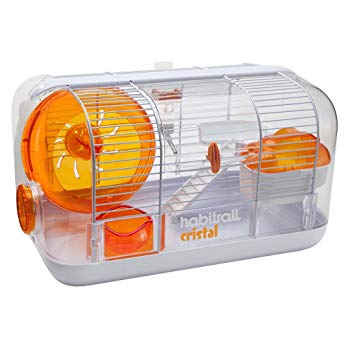 Pros:
Easy to remove and clean
It is not expensive
The wheel is quiet and adjustable
There is room for an extension
Cons:
The door latches are not secure
Hard to get replacement parts
This is a cage that is mostly of clear durable plastic with wire mesh for adequate ventilation. It also comes with a chew-proof water bottle and a quiet exercise wheel. Moreover, it also has a lookout observation desk and a secure door lock. It measures 16-inch length by 10-inch width by 9-1/2-inch height.
7. Kaytee My First Home Deluxe Multi-Level Pet Home with Casters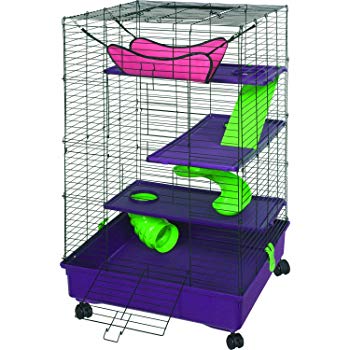 Pros:
Easy to clean
It is very affordable
There is a deep tray which prevents spill overs
Cons:
The hammock material is not durable
Plastic ramps break easily
The plastic parts don't easily fit together
This cage is an easy to clean deep scatter-less base that you can remove and replace in a snap. Moreover, it comes with safety ramps, spiral slide, hammock, trail funnel, and 3 comfort shelves. It also provides your small pet with a safe, creative multi-level environment in which to exercise and play.
8. Kaytee My First Home Tank Topper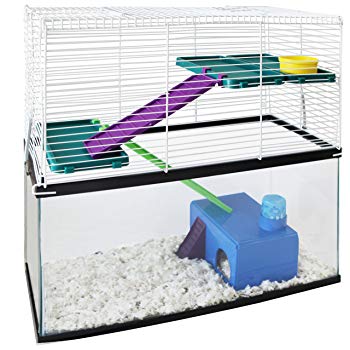 Pros:
The beddings don't spill over
It is easy to assemble
You can put more bedding
Cons:
Ladders are not sturdy enough
Door clips are not secure enough
The plastic ramps can break easily
This cage converts any 10-gallon tank into a multi-level high rise home for small furry pets. It also comes with comfort shelves, safety ramps, food dish, water bottle and a little brick house hideout without the glass tank. Furthermore, it is made with chew-proof coated wire and stain resistant plastic parts 20" long 10" wide, 10" high. It also has a bar spacing of ½ inches.
9. MidWest Homes for Pets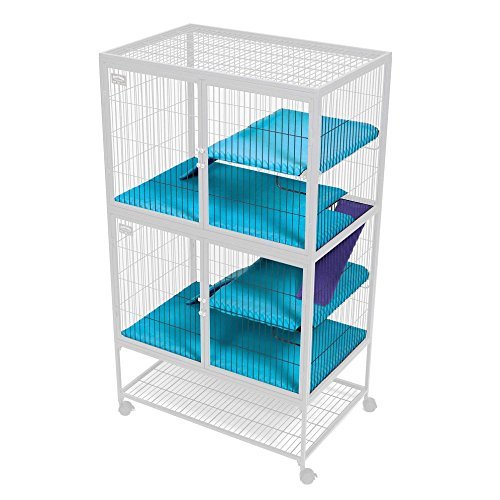 Pros:
Easy to clean
Very affordable
Cons:
It is heavy to lift
Shelf cover fabric not quality material
This cage has 2 shelf covers, 3 ramp covers, top pan cover and a bottom pan cover. It also comes with comfortable and attractive accessories in a polyester micro suede material. Moreover, the product also has a 1-year manufacturer's warranty. Its accessories are easy to remove, machine washable and dryer friendly.
10. Ware Manufacturing Home Sweet Home Pet Cage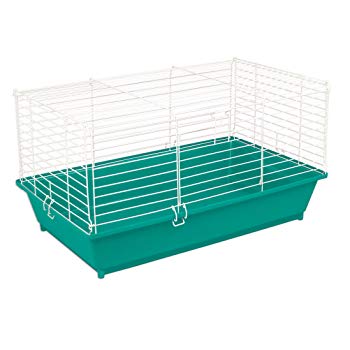 Pros:
Easy to assemble
It is easy to clean
The product is very affordable
It has a deep enough base for bedding
Cons:
Not enough room for playing
There have been some reports of pets that are still able to chew the plastic
This cage measures 28 inches long, 17 inches wide, 15 and1/2 inches high. It features a two-piece design that is easy to assemble. The cage is made of heavy duty plastic and chew-proof powder coated wire which adds to its durability. Moreover, it has a large opening doorway that allows easy access to the pet. This product is easy to assemble and to clean and it comes in assorted colors.
Key Considerations When Buying Hedgehog Cages
Just like any pet, you need to make sure to think about various important qualities that your hedgehog cage will have. Since it will spend a majority of its time in its cage, try to create an environment that helps it feels safe and secure. The following factors are key considerations when buying the right hedgehog cage.
Warmth – Hedgehogs do not hibernate. For this reason, you need to make sure that the cage itself is warm and nice. To do this, the right bedding and material are needed. You also need to make sure that there is a nice cozy area for them to sleep inside. A lot of owners suggest getting sleeping sacks and putting them into the cage, but that is really up to you. Another reason why it's important to get a place for your hedgehog to burrow into is that they love hiding. Thus, any sort of igloo or tubing will be great for your pet.
Wheel – Hedgehogs enjoy running a lot. They can actually run up to 12 miles a night, which is why it is very important to install a wheel. This will provide it enough exercise to stay healthy, but also help to make their brains more active. Moreover, make sure that the wheel isn't too big, or else they won't have enough room in the cage to move around. This is especially true if the hedgehog is a baby when you get it since they will most likely grow bigger.
Size – A cage needs to be big enough for the hedgehog to roam freely. Owners often suggest that a hedgehog cage be anywhere from 2.5 to 4 square feet. They don't necessarily have to be two floors high, but they should definitely have enough space for the hedgehog to have its designated corners. Additionally, make sure not to get any cage that has wired floors, since this will hurt your pet's feet and they have a higher chance of constantly slipping through.
Easy to clean – Every pet owner will say that cleaning the cage is one of the more tedious qualities of owning a pet. Unfortunately, that is part of the responsibility of being a pet owner, especially a hedgehog. For this reason, you should consider getting a cage that is easy to clean, both in terms of its base and the wires that the cage is made of.
Ventilation – Cages should allow your pet to breathe freely. Anything that feels stuffed will be harmful to your pet. This is especially true for hedgehogs. While it is important to set up a warm environment for them, since they do not hibernate, if the cage does not have good ventilation, you run the risk of killing your pet.
Toys – Hedgehogs are very playful creatures. They love to use anything as toys to play inside of. So, to make sure they are well-entertained, you should consider putting a toy inside its home. Furthermore, tunnels and other structures they can climb on will help cater to its burrow-loving behavior. Some awesome suggestions are PVC pipes, ramps, ledges, and tunnels. This will definitely keep your hedgehog happy over the years.
Types of Hedgehog Cage
People mostly buy two types of hedgehog cages. While you might be able to expand into trying out unconventional types such as wooden cages, usually many owners stick to these two because they are what work.
Wire cages – These are cages that have a plastic bottom and are covered by full wire. Wire cages are the most ideal options because they provide good ventilation, while also being fairly easy to clean. All you really need to do is change the bedding, clean out the dirty inside, wash, and let it dry. Furthermore, you want to make sure to avoid getting a wire caged with wired metal trays. This is dangerous for your pet and is not that easy to clean.
Plastic container cages – There are some owners that purchase plastic storage containers and use them as a cage. They actually make for great cages, especially if you can find a big, large one. However, the negative side to them is that ventilation isn't that great, and they aren't as visible. You need to peek through to see what your pet is doing.
Final Thoughts
Having gone through the list above, you are now in a better position to know what to look for the next time you go shopping for a hedgehog cage. As a pet owner, the comfort and well-being of your pet is important. Therefore, make sure to go through the list above and see what is suitable for you. If you didn't find any product that suits you, let our guide help you in finding the right cage for you and your hedgehog's needs.