Best Cages For Syrian Hamsters
Syrian hamsters are very active hamsters with a lot bigger of a personality than dwarfs (or at least this can be argued by different owners). They are quite territorial, so you shouldn't risk placing more than one in a single cage. They usually reach full maturity around 8-12 months.
The Syrian hamster is very nocturnal, meaning they love to be active during the night. They can usually live up to 1-2 years, possibly longer.
Quick Look at Our Top Picks:
The Top 10 Best Cages For Syrian Hamsters
When you go cage shop for your Syrian hamster, it is important to know what exactly you are looking for. The best cage for your Syrian hamster should have proper ventilation, ease of cleaning and easy to use. Wire cages are easy to clean than any other, but the preference is yours.
Your pet should be able to move freely, play and have a conducive environment for it to grow healthy and develop properly. We have complied a list below of the best Syrian hamster cages to help you make an informed choice.
Here are our top picks for the best cages for Syrian hamsters you should consider:
1. Living World Deluxe Habitat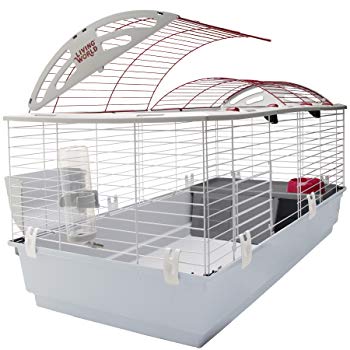 Pros:
Made of durable material
Very easy to clean
Ample room for the pet
It is very sturdy
Cons:
Difficult to assemble
It is very expensive
This hybrid case is of an upper wire frame and the plastic bottom base provides a safe, well ventilated and comfortable place for small pets. It also has a balcony with an access ramp and a tip-proof food dish that secures the balcony floor. Furthermore, it provides everything you need for safely housing a small animal. The top part opens easily in two separate parts to easily access the cage.
2. Midwest Critter Nation Double Unit with Stand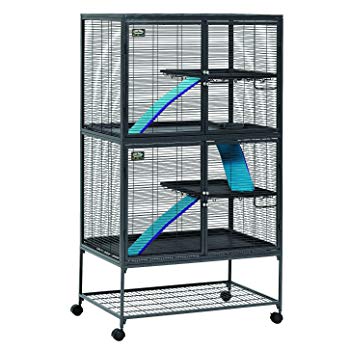 Pros:
Easy to clean
Sturdy and huge
Easy to move around with the wheels
Very spacious
High quality
Cons:
Very heavy to carry
It is very expensive
Some pieces don't fit
This cage has a full-width double doors which help to easily clean and feed the pets. Moreover, it has a wide expansive shelf and a full-width plastic pan floor for maximum play. This helps to prevent dangerous falls. Furthermore, the happy feet ramp cover protects pet feet and provides traction. You can easily adjust or remove the shelves and the plastic tray for easy cleaning.
3. Kaytee CritterTrail 2-Level Habitat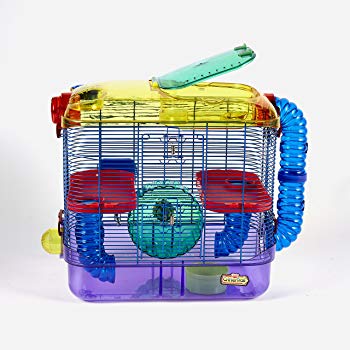 Pros:
Easy to clean
Room to expand
Very affordable
It is has a quiet wheel
Cons:
Bedding can be pushed out
The top part doesn't lock well
Water bottle doesn't fit
This crittertrail has a ¼ inch bar spacing suitable for small animals. It also has a look-out tower, exterior extreme wheel, and front access door. Moreover, it comes with a petting zone, exercise wheel, food dish, and water bottle. It also features two levels of living space and a removable petting zone for interaction. You can buy more funnels sold separately in all shapes and sizes to add and create trails that are fun for your pet.
4. MidWest Homes for Pets Ferret Nation | Deluxe Ferret Nation Cage & Ferret Playpen
Pros:
Great accessories
Easy to assemble
It is very sturdy
Cons:
Its quality is not consistent
It sometimes has missing parts
This is a ferret Nation's wide expanse shelf with a full-width leak-proof pan providing a maximized play area and also preventing dangerous falls. It also has two pans, two shelves and three ramps with ramp covers. It is very sturdy and durable metal which can easily be moved with 4 locking wheel casters. The cage also measures 36″L x 25″W x 62.5″H. There are no tools required to assemble. Furthermore, it includes a 1-year manufacturer's warranty.
5. Midwest Critter Nation Double Unit with Stand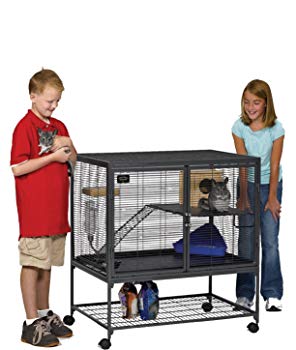 Pros:
Its big doors make it easy to clean
The product is very sturdy
Made of high quality
The wheels make it easy to move it
Cons:
It is heavy to carry
The ramps are not stable enough
Some pieces are missing or don't fit
This small animal cage measures 36″L x 25″W x 38.5″H. It has one pan, one adjustable shelf and one ramp with its cover. Moreover, it has ½ inch wire spacing that pets can use to climb. It has a removable shelf for easy cleaning and feeding. The product also has an expanse shelf with a full-width leak-proof pan providing a play area and preventing dangerous falls.
6. Ferplast Hamster Cage, Black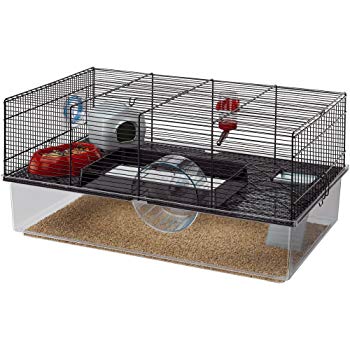 Pros:
The deep pan fully contains the beddings
It is easy to clean
Easy to carry
Good use of the space
Cons:
Water bottle is too small
It has a small running wheel
This cage has two floors. It measures 23.6 x 14.4 x 11.8 inches. Moreover, it is made of robust plastic with a transparent base and the top part has a wire net. It also has a small door at the top. The product also comes with one nest for sleeping, one feeding bowl, one water bottle and one wheel for exercise. When cleaning, you can separate the top and bottom by unlocking the side clips. As a result, this makes it quite easy to clean.
7. Kaytee Critter Trail Triple Play 3 in One Habitat for Hamsters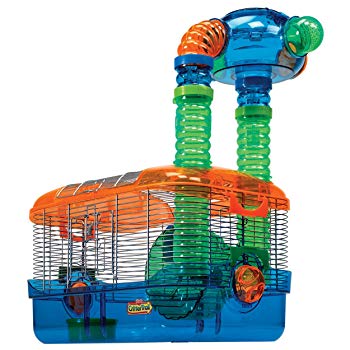 Pros:
Easy to assemble
It is very easy to clean
The wheel is not noisy
Cons:
There are missing pieces
It is difficult to connect and disconnect the tubes
This crittertrail triple play offers a three challenging environment for your pet. It has a tower, arch, or tunnel habitat design to house your hamster or gerbil. Moreover, it has narrow wire spacing and spring-loaded door locks to prevent your pet from escaping. It also comes with a wheel, water bottle, and food dish. The product measures 17-1/4-inch long, 11-1/2-inch wide and 19-1/4-inch high.
8. Lixit Animal Care Savic Hamster Heaven Metro Cage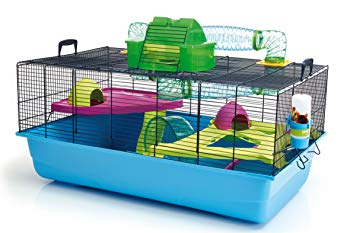 Pros:
Easy to clean
It is spacious enough
Made of good quality
Cons:
It is a bit expensive
Some part arrive broken
This hamster cage comes complete with tunnels, platforms, slides, houses, exercise wheel, toilet, food bowls and drinking bottle. Moreover, it is an extra-large hamster cage measuring 31 1/2x20x20 inch which has adequate space for your pet. The product is also made of quality plastic and east to assemble.
9. AmazonBasics Pet Habitat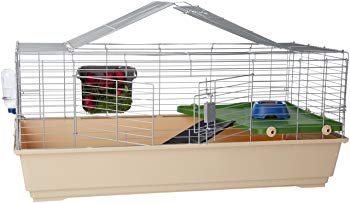 Pros:
Is not expensive
It is of good quality
Easy to access and clean
There is plenty of space to exercise
Cons:
The plastic is brittle and it cracks
The balcony is not stable
Its sides don't fit properly
This cage is an Amazon brand which measures 40.2 by 21.3 by 19.7 inches (LxWxH); weighs 15.6 pounds with an Amazon Basics limited 1-year warranty. Moreover, this cage comes with a non-drip water bottle, hay guard, and balcony with access ramp and a tip-proof food dish.  It also has a hideaway space underneath the balcony for privacy. The product has an iron wire upper frame and a PP plastic base, a large top and front opening for easy access.
10. IRIS Hamster Cage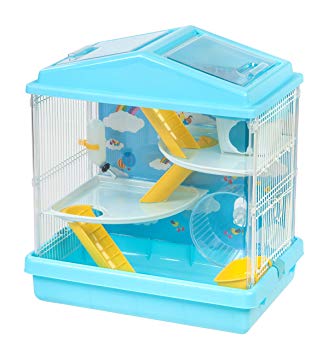 Pros:
Considerably a quiet wheel
Good quality
It is easy to clean
Cons:
The water bottle is too small
Wheel is small
Hamsters chew on the plastic
This cage is of a beautiful design with a tree level pet habitat measuring 17.72 x 12.20 x 19.29-inches great for small animals and critters. Moreover, it comes with a wheel, water bottle, and a food dish. It also has three levels that the pet can explore and climb. It provides safe, well-ventilated fun and comfortable place for your pet.
Key Considerations When Buying a Cage for a Syrian Hamster
Since the Syrian hamster is slightly different in regard to how big they can become, you should be a bit more specific to what you look for in a cage. While it is roughly similar to hamsters in general, you should still consider the following features when buying a cage.
Type of cage – There are three main types of cages that are out in the market when it comes to hamster cages: wired, plastic, and aquarium. Every cage has its own defining features, but usually, many owners consider a wired cage to be the best.
Ventilation – Without the proper ventilation, your Syrian hamster will live with discomfort. Since their lungs are not that big, having a cage that does not allow a lot of air to pass through will definitely create issues. There should be enough space between the bars. Aquarium and plastic cages are convenient to have, but they are not the best when it comes to ventilation.
Size – Considering this is where your hamster will spend most of its life, you want to get a cage that is big enough. The size is very important because hamsters generally like to have different corners for different things. For example, they enjoy burrowing into cozy spots, while having a designated place for going to the bathroom, etc. The National Hamster Council states that a Syrian hamster should have at least 150 square inches of area to live and play in. In regards to the height of the cage, they recommend 17.5 inches tall.
Security/safety – Even though this point is fourth on the list, it is one of the most important things to consider because safety is everything. Since a Syrian hamster, no matter how big it gets, still has small feet, you need to pay attention to the type of flooring it is walking on. If you get a wired cage with a floor that has the same material, regardless of how much bedding you put over it, there is a chance for its leg to get stuck. So, definitely consider a plastic tray for a flooring. Furthermore, pay attention to the spaces between the bars, since you do not want your pet to bite or escape through. It should be no more than ½ inch apart.
Accessories – Your hamster will be stuck in this cage for his/her whole life. So, having a hamster wheel for it to run and exercise on is essential to a great home. However, it is important to remember that wheels should be big enough for your Syrian hamster. They should have no cross bars for support, and the surface should not be wired mesh, but instead solid. This is so your pet does not get suck in between while running.
Ease of cleaning – As much as the hamster cage is for your Syrian hamster, you are the one that is cleaning it. This means you should be still have aspect to consider when buying one since something that is difficult to clean will only make your life harder. Generally, wire cages with a plastic bottom tray are the easiest to clean. This is because all you really need to do is lift the wire top off, remove the bedding, and wipe or wash down. To be extra sanitary, you might want to clean between the wires as well (since urine can go on it sometimes), but that is up to you. For plastic cages that consist of a lot of inner tubes, cleaning can become very troublesome.
Final Thoughts
In conclusion, hamsters are great pets for kids and adults alike. Like any other pet, they require a certain amount of care and maintenance to keep them active and happy.
Since Syrian hamsters are prominently known for being energetic, make sure to place the right accessories in its cage, and give it enough space.
Also, because they are nocturnal creatures, you need to consider the right spot for placing the cage, or else you will have many sleepless nights. Their living environment should be made as natural as possible.
The cage you choose for your pet is therefore very important. Look at the key considerations we mentioned above to give you an idea of what to look for when buying a Syrian hamster cage. Also, if you need suggestions, we provide a list of some of the more popular products that owners can choose from. In the end, you are the owner so you must do your research and make the necessary effort to take care of your beloved pet.