15 Best Airline Approved Dog and Pet Carriers
This page contains affiliate links. We may earn money or products from the companies mentioned in this post through our independently chosen links, which earn us a commission. Learn More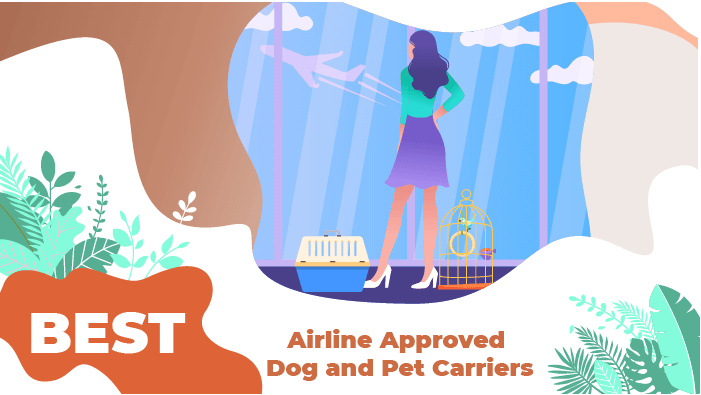 Taking your furry friend with you on an airplane should be an exciting experience. However, many pets get stressed and restless during air travel. In order to ensure a safe and comfortable flight for your pet, you must get a suitable airline-approved pet carrier.
A good pet carrier should be able to keep your cat or dog safe and secure on the plane, as well as make them comfortable. Also, it is expected to enable you to interact easily with your travel companion during the flight.
In order to help you find a product that fulfills these requirements, we will be reviewing some of the best-rated pet carriers in this article.
At a Glance: Best Airline Approved Dog and Pet Carriers To Buy
We highly recommend looking at the comparison table we have below where we highlighted the features of each product.
The 15 Best Airline Approved Pet Carriers Reviewed
Since pet crates or dog carriers come in various sizes and styles, it can get confusing when singling out one that is perfect for your buddy. Our selections here will serve as a good point of reference for you to prepare for your flight. All of the products in this list have medium-range price tags, so you will not find them extremely heavy on your budget.
Here are our top picks for the best airline approved dog and pet carriers you should consider:
The Comfort Pet Carrier is a stylish, breathable solution for pets and pet owners who are always on the go. Its physical profile includes a half zip opening on one end and a full zip opening on the other end.
The two openings work well with the mesh panels on the carrier to provide optimum ventilation, as well as accessibility for your buddy. In order to provide comfort and reassurance while in transit, a Pet Connect side zipper opening allows you to interact with your pet.
If you want to carry it on your shoulder, then you can use the well-padded and adjustable shoulder strap on this dog carrier. In addition, the product is designed with the safety of your pet in mind.
Therefore, there are reflective strips to make the container more visible to others in low-lit areas. Also, seat belt loops and locking zippers ensure the maximum safety of your pet. This dog carrier has a soft fleece bed and also a rigid insert panel inside, both of which are removable for washing.
The Petmate Sky Kennel consists of a heavy-duty plastic shell with non-corrodible wing-nuts, extra strong steel wire and an interlocking door. All these features combine to offer your canine friend strong, durable protection. It features a 4-way vault door that stays locked in place and secured for transport.
This carrier also ensures that your pet gets proper ventilation. Due to ventilation openings on all sides, the carrier offers good visibility as well. Furthermore, this dog carrier comes in six distinct sizes which means you can always find one that suits your buddy. It also has other travel must-haves on it, including two "live animal" stickers, ID stickers and clip-on water bowls.
The Aspen Pet Porter Heavy-Duty Pet Carrier comes in a light-weight design that will enable you to travel with your pet stress-free. Featuring a heavy-duty plastic shell and metal bolts, this carrier is easy to set up.
In order to provide proper ventilation and visibility, the carrier sports vents on three sides. This durable carrier comes in 9 different sizes, and also has a good range of color options.
Mr Peanut's carry-on Airline Approved Soft Sided Pet Carrier is a stylish carrier featuring a nylon fabric exterior that is water resistant. The fabric is also very durable and is the type used in military grade parachutes.
This carrier will keep your pet safe and secure as it sports zippers, as well as metal locking clasps. It also has an interior ring to attach the leash and a safety seat belt buckle. There are large mesh windows located on top, as well as on all sides of the carrier to provide adequate ventilation for your pet. It also comes with a pocket for storing treats, leashes and other essentials required on the plane. In addition, a removable, easy-to-wash fleece bed provides your pet comfort while traveling.
Songwin's Soft-Sided carry-on Pet Travel Carrier has a lot of great things going for it. Its compact size and folding mechanisms make it easy to store and it takes up very little space when it is not in use, even for smaller apartment living. While it is easily collapsible for storage, it is thankfully sturdy enough to not collapse onto your pet while he is in it.
Despite its small size, it comfortably fits pets weighing up to 17.5 lbs. (8 kg), and also comes with a soft fleece bed insert, so your travel companion can feel comfortable enough to relax and maybe even sleep on longer trips.
This carrier also sports multiple handles and adjustable plush straps for easy transport, whether you are quickly picking it up by the handles, or need to carry it for longer walks through an airport, making it a comfortable option for both pet and pet owner alike.
For its price, the Akinerri Pet Carrier is a great find for your airline approved pet carrier needs. The medium size carrier does run on the smaller side, so while it is perfect for medium to small sized cats, and dogs, you will want to upgrade to a large size for even slightly larger pets.
Thankfully it comes in two sizes though, so while the larger carrier costs $10.00 more than the medium, it iswell worth it for your pet's comfort, especially when taking them on long trips and acts well as a cat carrier.
There are two entrances/exits on the carrier, which means you will have easier access to your pet, as well as an easier time of getting pets that need a little more coaxing in and out of the carrier with relative ease. Like many of the other pet carrier models, it has mesh for ventilation, and a cozy fleece insert as well.
While it is not a major concern for every traveler, some of us enjoy travelling with luggage that is stylish as it is functional. This airline approved pet carrier by Sherpa is just what the veterinarian ordered for the more style conscious pet owner on the go!
Coming in a variety of different colors, including a pretty plum purple, this pet carrier is about more than just looks. Its patented spring wire frame allows the rear end of the carrier to be pushed down several inches so that it fits under the seat on the plane without collapsing onto your furry friend.
Meanwhile, mesh windows for ventilation make for a safe and comfortable ride. The zippers lock securely in place to make sure your pet stays put, and rear pockets make for a convenient place to store treats, a leash, bags, wipes and any other pet-related needs.
This airline pet carrier has the words, "heavy duty" right in the title, and they aren't kidding. While some hard-sided carriers are far more flimsy than they should be, it is not a concern with this carrier.
While there is a slotted design on the side in the plastic for ventilation, it still does not compromise in its sturdy design. This pet carrier comes with wheels, which can be attached or removed for whatever the situation might call for, and is easy to assemble.
It also comes is small, medium and large sizes, depending on what your pet's particular needs are. Like most hard-sided carriers, it can be a bit hard and cold on its own, so it is best to include a soft bedding insert for your pet, so he or she can travel comfortably, even when being transported in the cargo area of a plane.
The Siivton Airline Approved Pet Carrier comes with a very unique design that is intended to give your pet maximum space and comfort. All four sides have pockets that can be unzipped an extended. Your pet can then move around more comfortably, which makes the anxiety of travelling while confined easier to cope with.
While this feature is unique and will be appreciated by many pets and pet owners, some of the more precocious pets who can behave like little escape artists when the situation calls for it will note that the mesh on the extended sides is much flimsier than the mesh on the top of the carrier.
It is, as always, important to know your pet's personality and how they would likely respond to different environments. Still, the Siivton gets major kudos for their unique design, and while it may not be perfect for all travelling pets, there are still many furry friends with a more mellow travel demeanor who will appreciate the extra space.
The Hitch Pet Travel Carrier is a great option for taking your pets on trips with you. Its steel ring set and firm wood bottom plate maintains its stability, while a faux lamb skin linter keeps your pet comfortable. Locking zippers that prevent your pet from opening the carrier work like a charm, while an internal leash keeps your pet secure inside the carrier.
Its mesh windows give plenty of air while your pet can watch what is going on in the outside of the carrier during travel. It also sports both front and rear pockets for convenient storage of pet treats, leash, bags, or anything else your pet might need on the go.
When not in use, the Hitch's collapsible design allows you to store it flat, which means it takes up practically no space at all. Perhaps the best thing of all is the reasonable cost of this pet carrier, which also comes with and offer for a 10-Year Warranty. You can't beat that!
The Smiling Paws Pets expandable pet carrier bag has an excellent design. For extra room for your pet, you can expand any of the four sides, or keep it smaller and compact as needed.
It has a top entrance and includes an internal leash, so you should have little hassle when it comes to loading and removing your pet, and keeping it safe and secure while inside the expandable carrier.
It features self-locking zippers, a zipped storage pocket for treats and other necessities, reinforced rotating metallic clips, a safety sleeve for luggage handles and car seatbelts, a soft, machine washable pad, and a thickly padded shoulder and handle holders. That's quite a few bells and whistles.
This carrier is also quite sturdy, as the designers went the extra mile to reinforce every side – which is good news for pet owners with more energetic and rowdy animals.
Metallic clips, high quality rods, self-locking zippers and an internal leash all go towards making sure that your pet will not escape mid-flight. The internal fabric is also laminated and leak-proof, which is a nice feature.
This expandable pet Carrier is a high-quality option for pet owners. The strong material and carry straps make sure that it won't collapse on your pet during travel, even though it takes a little wiggling to make sure that the carrier's frame will fit under the seat of an airplane.
The expandable side is perfect when waiting around in terminals, giving your pet a chance to move around a bit more and stretch his legs. The little pop out "patio" has a soft internal frame of its own,which keeps its structure while in use.
Conveniently, the design includes a large pocket to fit full letter size documents, toys, treats, and other travel and pet necessities. When not in use, it easily folds down for flat storage and easy carry. All in all, a great purchase for a pet owner on the go.
This WPS pet carrier provides a tremendous amount of comfort when it comes to longer travels. With removable wheels and a telescopic handle to easily wheel your furry friend through the airport, this carrier is a great choice for your airplane travels that maximizes convenience.
If the wheel and handle are not necessary for you, then the carrier's hand-carry straps and a no-slip adjustable shoulder strap should do the trick. Made of an upgraded metal and super-strong, durable materials, the WPS pet carrier should last you and your pets for a long time.
It comes neatly packed in a bonus carrying bag and is easytoassemble. The mesh panels on the top and sides are reinforced, making it difficult for determined chewers and claws to tear through and escape.
The Aivituvin Pet carrier is a great way to transport your furry friend on flights. However, it runs on the small side, and will likely be most comfortable for smaller cats and toy breed dogs or puppies.
It is designed to open on two sides of the carrier, with a wire frame and self-lock zippers that help the carrier both keep its shape, and keep your pet securely inside while travelling. Despite the wire frame, it folds neatly and easily, taking up little room when it is being stored instead of in use.
It is lightweight with padded shoulder straps, making it easy to carry, even through long airport strolls in between flights. At $17.99, the Aivituvin is one of the more easily affordable airline approved pet carriers on the market, so you can travel with your pet in ease and comfort, without having to break the bank to do so.
The Prodigen Pet Carrier Airline Approved Pet Carrier is a both sensible and style option for traveling with your pet. Designed with a ventilated toe, the four sides of the carrier are made of durable and reinforced polyester to protect against pets who are a bit more determined to claw or chew their way through their carriers.
There are still mesh sides for ventilation to assure quality airflow and ventilation for your pet, while mini zipper buckles reinforce the design to help ensure that your pet stays tucked inside.
It also comes with a comfortable and removable fleece travel bed, padded shoulder strap,storage compartment for treats and other necessities, and is seat belt compatible, making sure that even the trip to the airport with your pet in tow goes smoothly and safely. All in all, a great purchase.
Key Considerations When Buying Airline-Approved Pet Carriers
If your pet becomes restless in a carrier and dislikes being confined, then air travel can be a real trial. However, you can make things easier by choosing an airline-approved pet carrier that is designed with your pet's comfort and security in mind. If you consider these factors when making the purchase, then you will most likely set your pet up for a happier flight.
Airline Standards – Before buying a pet carrier, you need to know the regulations of the flight you will be boarding on most major airlines. Standards for pet carriers vary between airlines and can also depend on whether your flight is domestic or international.
Soft-sided or Crate – Soft-sided carriers are usually made of nylon, and work well for airplane cabins because they take up less space. Hard-sided carriers – or dog crates – are sturdier and while they are great for pets that are flying in the cargo hold, they can also be taken into the cabin on some airlines. This is, of course, given that they fit in the space available in the cabin and comply with airline standards.
Zipper or Velcro – If you are using a soft-sided carrier, then you may need to determine how you will be opening or closing it. Velcro enclosures can allow you easy access to your pet. They can, however, make it too easy for an active pet to get loose on the plane. In this case, sturdy zipper enclosures may be what you need to have your fellow passenger stay put. Furthermore, pets that are good at escaping might require lockable zippers to ensure a safe flight.
Comfort – Make sure the pet carrier is the proper size for your pet and has a comfortable lining or a bed for them to rest on. Also, check whether the carrier has a rigid bottom that does not sag under your pet's weight. A sagging bottom can be very uncomfortable for your pet when being carried. Finally, proper ventilation is essential, and airline standards have very specific rules for it.
Interaction – Your pets need assurance while in flight, so there has to be a way to interact with them. Many carriers feature flaps that you can open to interact with your flight companion.
Wheels – You need to consider whether you will be able to shoulder the weight of your buddy or not. Always ensure you are able to move through the airport with your pet without putting unnecessary strain on your body. If your pet is heavy to carry, then a rolling carrier would be a good option. However, note that hard dog crate with wheels may not be allowed to fly on all airlines and may not fit on next to some airline seats.
Additional Resources:
For additional info on airline requirements click here
Final Thoughts
Getting a good airline-approved carrier for your furry fellow passenger is essential for a stress-free flight.
Although it may seem difficult to choose the perfect carrier, our list will give you an idea of some of the most reliable options available for your pet's safe and comfortable journey.