Best Airline Approved Dog and Pet Carriers
Taking your furry friend with you on an airplane should be an exciting experience. However, many pets get stressed and restless during air travel. In order to ensure a safe and comfortable flight for your pet, you must get a suitable airline-approved pet carrier.
A good pet carrier should be able to keep your pets safe and secure on the plane, as well as make them comfortable. Also, it is expected to enable you to interact easily with your travel companion during the flight.
In order to help you find a product that fulfills these requirements, we will be reviewing some of the best-rated pet carriers in this article.
Key Considerations When Buying Airline-Approved Pet Carriers
If your pet becomes restless in a carrier and dislikes being confined, then air travel can be a real trial. However, you can make things easier by choosing an airline-approved pet carrier that is designed with your pet's comfort and security in mind. If you consider these factors when making the purchase, then you will most likely set your pet up for a happier flight.
Airline Standards – Before buying a pet carrier, you need to know the regulations of the flight you will be boarding. Standards for pet carriers vary between airlines and can also depend on whether your flight is domestic or international.
Soft-sided or Crate – Soft-sided carriers are usually made of nylon, and work well for airplane cabins because they take up less space. Hard-sided carriers – or crates – are sturdier and while they are great for pets that are flying in the cargo hold, they can also be taken into the cabin on some airlines. This is, of course, given that they fit in the space available in the cabin and comply with airline standards.
Zipper or Velcro – If you are using a soft-sided carrier, then you may need to determine how you will be opening or closing it. Velcro enclosures can allow you easy access to your pet. They can, however, make it too easy for an active pet to get loose on the plane. In this case, sturdy zipper enclosures may be what you need to have your fellow passenger stay put. Furthermore, pets that are good at escaping might require lockable zippers to ensure a safe flight.
Comfort – Make sure the pet carrier is the proper size for your pet and has a comfortable lining or a bed for them to rest on. Also, check whether the carrier has a rigid bottom that does not sag under your pet's weight. A sagging bottom can be very uncomfortable for your pet when being carried. Finally, proper ventilation is essential, and airline standards have very specific rules for it.
Interaction – Your pets need assurance while in flight, so there has to be a way to interact with them. Many carriers feature flaps that you can open to interact with your flight companion.
Wheels – You need to consider whether you will be able to shoulder the weight of your buddy or not. Always ensure you are able to move through the airport with your pet without putting unnecessary strain on your body. If your pet is heavy to carry, then a rolling carrier would be a good option. However, note that hard crates with wheels may not be allowed to fly on all airlines.
Quick Links: Best Airline Approved Dog and Pet Carriers
Image
Product
Features

Comfort Pet Carrier

Durable and strong

Folds for storage

Easy to clean

View Best Price

Petmate Sky Kennel

Very secure

Very easy to assemble

Light and easy to carry

View Best Price

Aspen Pet Porter Heavy-Duty Pet Carrier

The carrier is sturdy

Good locking mechanism

Assembly is easy and doesn't take long

View Best Price

Mr Peanut's Airline Approved Soft Sided Pet Carrier

Very stylish

Well-ventilated since it has mesh on all sides

Openings on both ends, top and one side

View Best Price
The Best Airline Approved Dog and Pet Carriers
Since pet crates or carriers come in various sizes and styles, it can get confusing when singling out one that is perfect for your buddy. Our selections here will serve as a good point of reference for you to prepare for your flight. All of the products in this list have medium-range price tags, so you will not find them extremely heavy on your budget.
Here are our top picks for the best airline approved dog and pet carriers you should consider:
1. Comfort Pet Carrier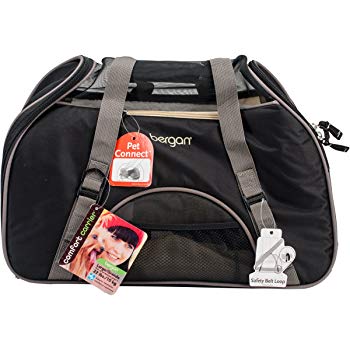 Pros:
Durable and strong
Folds for storage
Easy to clean
Allows proper ventilation for pets
Cons:
Runs a little small
Strong chemical odor
The Comfort Pet Carrier is a stylish solution for pets and pet owners who are always on the go. Its physical profile includes a half zip opening on one end and a full zip opening on the other end. The two openings work well with the mesh panels on the carrier to provide optimum ventilation, as well as accessibility for your buddy. In order to provide comfort and reassurance while in transit, a Pet Connect side zipper opening allows you to interact with your pet.
If you want to carry it on your shoulder, then you can use the well-padded and adjustable shoulder strap on this carrier. In addition, the product is designed with the safety of your pet in mind. Therefore, there are reflective strips to make the container more visible to others in low-lit areas. Also, seat belt loops and locking zippers ensure the maximum safety of your pet. The carrier has a soft fleece bed and also a rigid insert panel inside, both of which are removable for washing.
2. Petmate Sky Kennel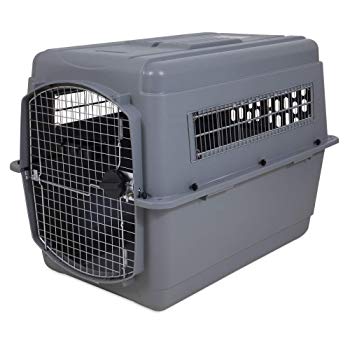 Pros:
Very secure
The carrier is sturdy
Very easy to assemble
Light and easy to carry
Cons:
Inaccurate sizing charts
The handle seems to be of poor quality
The Petmate Sky Kennel consists of a heavy-duty plastic shell with non-corrodible wing-nuts, extra strong steel wire and an interlocking door. All these features combine to offer your canine friend strong, durable protection. It features a 4-way vault door that stays locked in place and secured for transport.
This carrier also ensures that your pet gets proper ventilation. Due to ventilation openings on all sides, the carrier offers good visibility as well. Furthermore, this carrier comes in six distinct sizes which means you can always find one that suits your buddy. It also has other travel must-haves on it, including two "live animal" stickers, ID stickers and clip-on water bowls.
3. Aspen Pet Porter Heavy-Duty Pet Carrier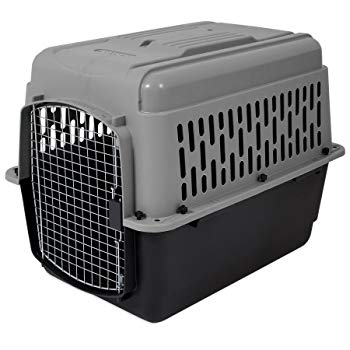 Pros:
The carrier is sturdy
Good locking mechanism
Assembly is easy and doesn't take long
Light weight
Cons:
No vent holes on the back so may need drilling
The plastic is a little thin
The Aspen Pet Porter Heavy-Duty Pet Carrier comes in a light-weight design that will enable you to travel with your pet stress-free. Featuring a heavy-duty plastic shell and metal bolts, this carrier is easy to set up.
In order to provide proper ventilation and visibility, the carrier sports vents on three sides. This durable carrier comes in 9 different sizes, and also has a good range of color options.
4. Mr Peanut's Airline Approved Soft Sided Pet Carrier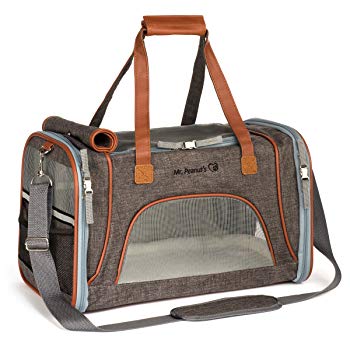 Pros:
It is very stylish
It is well-ventilated since it has mesh on all sides
Openings on both ends, top and one side
Easy to clean
Cons:
Some customers complained of zippers breaking
The straps are not strong enough
Comes in only one size
Mr Peanut's Airline Approved Soft Sided Pet Carrier is a stylish carrier featuring a nylon fabric exterior that is water resistant. The fabric is also very durable and is the type used in military grade parachutes.
This carrier will keep your pet safe and secure as it sports zippers, as well as metal locking clasps. It also has an interior ring to attach the leash and a safety seat belt buckle. There are large mesh windows located on top, as well as on all sides of the carrier to provide adequate ventilation for your pet. It also comes with a pocket for storing treats, leashes and other essentials required on the plane. In addition, a removable, easy-to-wash fleece bed provides your pet comfort while traveling.
Final Thoughts
Getting a good airline-approved carrier for your furry fellow passenger is essential for a stress-free flight.
Although it may seem difficult to choose the perfect carrier, our list will give you an idea of some of the most reliable options available for your pet's safe and comfortable journey.